Stand Up with the
NIGHT NATION RUN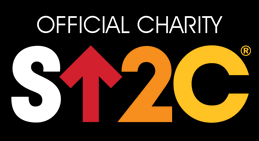 The Night Nation Run is proud to support Stand Up To Cancer (SU2C) as their official charity.
Stand Up To Cancer (SU2C) is a groundbreaking initiative created to accelerate innovative cancer research that will get new therapies to patients quickly and save lives now.
Whether you plan to run, skip, walk or dance your way through the 5k, you can put that hard work to good use by supporting collaborative cancer research. You can help SU2C get one step closer to its mission of making everyone diagnosed with cancer a survivor. Click here to learn more.
Get Involved with The
NIGHT NATION RUN
Ready to accelerate cancer research? Here's how you can help.  Register for the race and look for ways you can support SU2C
Donate $1 to SU2C and receive a special "I STAND UP FOR" bib
When you register for the race, donate $1 to SU2C and receive an "I STAND UP FOR" customizable race bib to honor a loved one during your race.
Get your "Stand Up & Run with the Night Nation" T-shirt
When you register or before you run the race purchase the official SU2C Night Nation t-shirt and we will donate $5 from the sale of each t-shirt to SU2C.